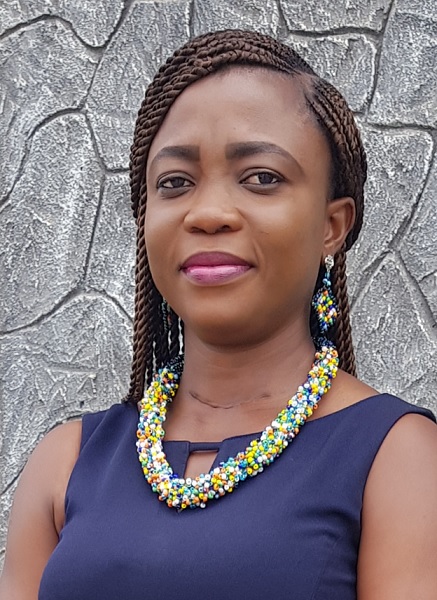 Mrs. Nana Adwoa Konadu Dsane is a Fellow of the Chartered Institute of Leadership and Governance, a Chartered Human Resource Management Practitioner, Chartered Professional Administrator, Chartered Management Consultant, and Founder/President of the Thyroid Ghana Foundation.  She also holds a Commonwealth Executive Master of Business Administration (CEMBA) from the Kwame Nkrumah University of Science and Technology, and a BSc in Business Management Studies from the University of Cape Coast. She is currently pursuing a PhD in Human Resource at University of South Africa. Her PhD research in focused on Leadership and Empowerment on Organizational Citizenship Behaviour in Public Universities in Ghana.
Mrs. Dsane is currently the Deputy Director, Medical and Scientific Research Centre at the University of Ghana Medical Centre. She has about 20 years' experience in various aspects of administration (research, health, education, and corporate) having worked at the Office of Research Innovation and Development, Office of the Provost, College of Health Sciences and University of Ghana Medical School, Haematology Department, etc. holding various administrative ranks. She previously worked as an Administrative Officer on The Hunger Project–Ghana and in the Finance Department of the Trassaco Real Estate Company.
Mrs. Dsane established the Thyroid Ghana Foundation following her battle with hyperthyroidism. The Foundation seeks to create awareness of the Thyroid disease in Ghana and bring affordable treatment to those affected by it. As part of its action plan, the Foundation seeks to establish a state-of-the-art health centre for the treatment and care of thyroid patients in Ghana and beyond.
She is also the Board Chairperson of the Global Transformational Agents Foundation (GloTAF), an N.G.O. focused on youth development through the transformation of prisoners, advocacy for peace and sanitation, and health improvement of people, a Vice-Chairperson of the National Executive Council of the Chartered Institute of Leadership and Governance (CILG – Ghana Chapter). She is an Associate Member of the Chartered Institute of Administrators and Management Consultants and the Chartered Institute of Human Resource Management Practitioners, Ghana.
Mrs. Dsane has won numerous awards including the first CILG Personality of the year 2018 by the Chartered Institute of Leadership and Governance – Ghana Chapter, an African Regional Awards as one of its 100 Most Inspiring Individuals in Africa for the year 2021, UPF Merit Ambassador for Peace Award by the Universal Peace Federation (UPF Ghana) 2021, and an Outstanding Philanthropic Award (Achiever's Category) by Ladies in Business Magazine Global 2022.  She is happily married and blessed with three children.
The Founder